It's summer time and the living is easy! Time to hit the beach and at least once during the season, take in a water park. Water parks were introduced in the late 1970's with the opening of Wet and Wild in Orlando, Florida by the same folks who introduced Sea World. Today the USA has the most waterparks of any nation in the world, with thousands throughout the country. An alternative to standard amusement parks, Water Parks can be a fun and economical day trip for families and summer camps alike. However, for the Water Park attendee with a propensity for observing their surroundings, Water Parks can be a ton of laughs, thrills and chills beyond the 5 story drop of the giant water-slide, if you pay attention to some basic principles of behavior.
For example:
1) People who rent inner tubes as opposed to using the ones that are provided on the rides that require them are the folks most likely to act like assholes on the rides. There is nothing funnier that watching somebody injure themselves in the act of being a jerk. To the kid who threw his tube in the pool, attempted to jump in the middle, missed and hit his groin on the edge of the pool, I say, "You did the world a favor by ending your chances at reproducing." To the moron who went down the canal ride backward, against all posted warnings, flipped over and lost your shorts, all to impress the girls you were with, I say "I bet they're really impressed to see that you're hung like a Ken doll." Remember 'accidental' holes in a rental inner-tube at the top of a water slide can often result in a spectacular finish at the bottom.
2) People who rent Cabanas are to be viewed with the same pity as the folks who pay $40 when they
go to the club, so that they can sit behind a rope and drink J Roget. You are obviously compensating for the many nights that you ate Rice Crispies, and Soy Sauce sandwiches for dinner. It's a frickin' water park, not a country club. What, you're too good to sit with the rest of us after floating in the same chlorine and urine we did?
3) The staff at water parks are generally comprised of high school and college students who are simply trying to make some money for the summer. They should be treated with respect... unless of course they have allowed the whistle, sun glasses and authority to go to their heads. In that case, the should be showered with torment and abuse by every kid in the park, especially those under 48". To the wave pool guard who was so liberal with blowing your whistle, I hope you found your trunks and whistle... at least they left you your sun-glasses...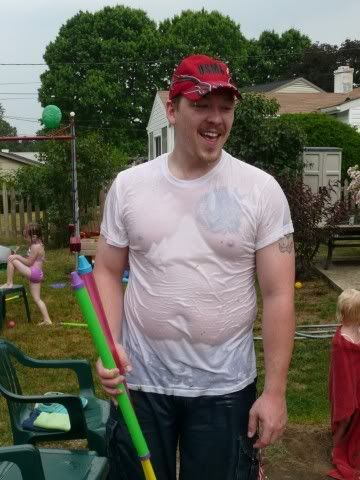 4)